Social media platforms have revolutionized the way we connect with one another, but they have also given rise to a new breed of criminals: scammers. Instagram, one of the world's most popular social media sites, has seen its fair share of scammers who create fake profiles to deceive innocent people. Sextortion involves leveraging intimate images or videos to extort money or other benefits from victims, and the ramifications can be severe. Those targeted may feel trapped and alone. This blog will explore what to do if someone is blackmailing you on Instagram and provide an in-depth guide on identifying their profiles.
In this video, you'll learn what to do if someone is blackmailing you on Instagram. We'll provide you with practical steps to take, so you can protect yourself and report the issue to Instagram. Don't let the blackmailer control you any longer, click now to watch and take action.
How to Track and Identify an Instagram Scammer?
With social media taking over our daily lives, online scams have become common. Instagram is no exception to these scams. To differentiate a legitimate Instagram account from a fraudulent one, there are several things you can look at:
1. Examine their profile picture
Consider the profile picture carefully; is it a stock photo or of a genuine person? If the profile picture is of low quality or resolution, it may be a stock photo. Additionally, take a screenshot of their picture and perform a reverse image search using a tool such as TinEye or Google. If the search turns up matches from other online images, the account is likely fraudulent and should be approached with caution or avoided entirely.
Step 1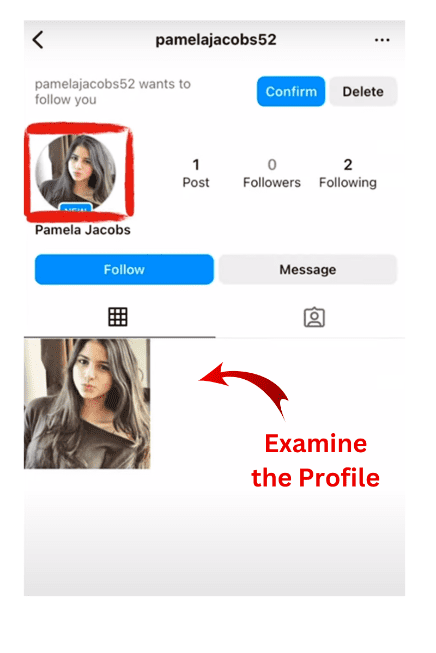 Step 2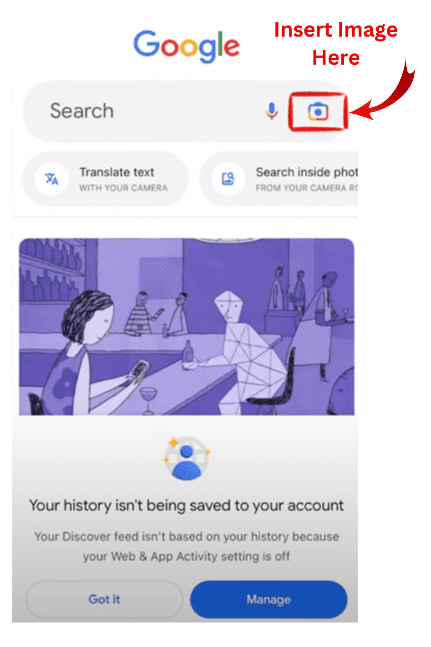 Step 3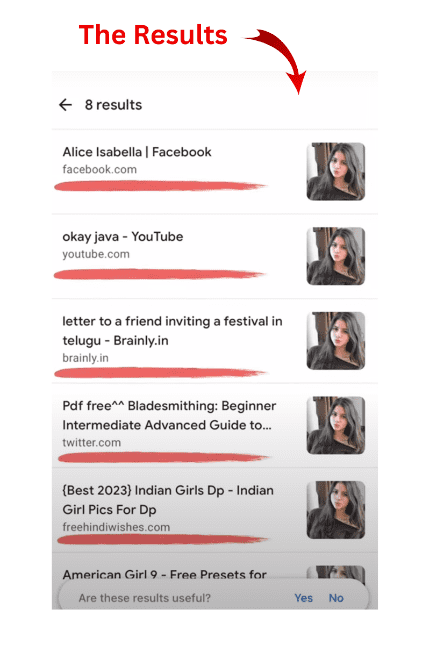 2. Review their tagged photos and comments
A genuine account will showcase a variety of interactions with real people and associates. Look at the account's posts and see if there are any comments.  If there are no comments or tagged photos, it is probable that the account is fake. Similarly, look for replies from the account to comments left on its posts. A genuine account will typically engage with followers and respond to comments or questions.
3. Investigate their follower count
Although a low follower count is not always indicative of a scammer, an account that follows numerous other profiles but has only a few followers may be up to something nefarious. For example, a user following many other profiles but with only a few followers may suggest they are following many users to spam or scam them. They may be trying to get people to click on links, sign up for services, or engage in other activities that could be harmful or fraudulent.
4. Analyze their story posts
When analyzing a social media profile to determine its legitimacy, paying attention to the account's story posts is essential. Stories are temporary posts that typically disappear after 24 hours, and they can be a valuable source of information when determining if an account is trustworthy or not.
Look for things like if the person depicted in the profile images is also visible in the stories. Additionally, it is important to look at the stories' content.  Disreputable accounts often do not post stories, but when they do, they tend to be provocative and enticing, designed to lure unwary viewers into a conversation.
5. Inspect their bio
While inspecting a social media profile to determine its legitimacy, it is crucial to examine the account's bio closely.  Does it feature a jumble of letters or numbers, senseless emojis, or odd quotes? Does it contain requests to follow the account on another platform or supply cash via Cash App or Venmo? Often, this can be a warning sign that the account is engaged in fraudulent activity.
6. Verify the Account
Check to see if a blue verified badge appears beside their name. This indicates that the account is authentic and verified. However, it's important to note that even verified accounts can still be used for fraudulent or criminal purposes. Even verified accounts can be hacked and used on Instagram for fraudulent or illegal purposes.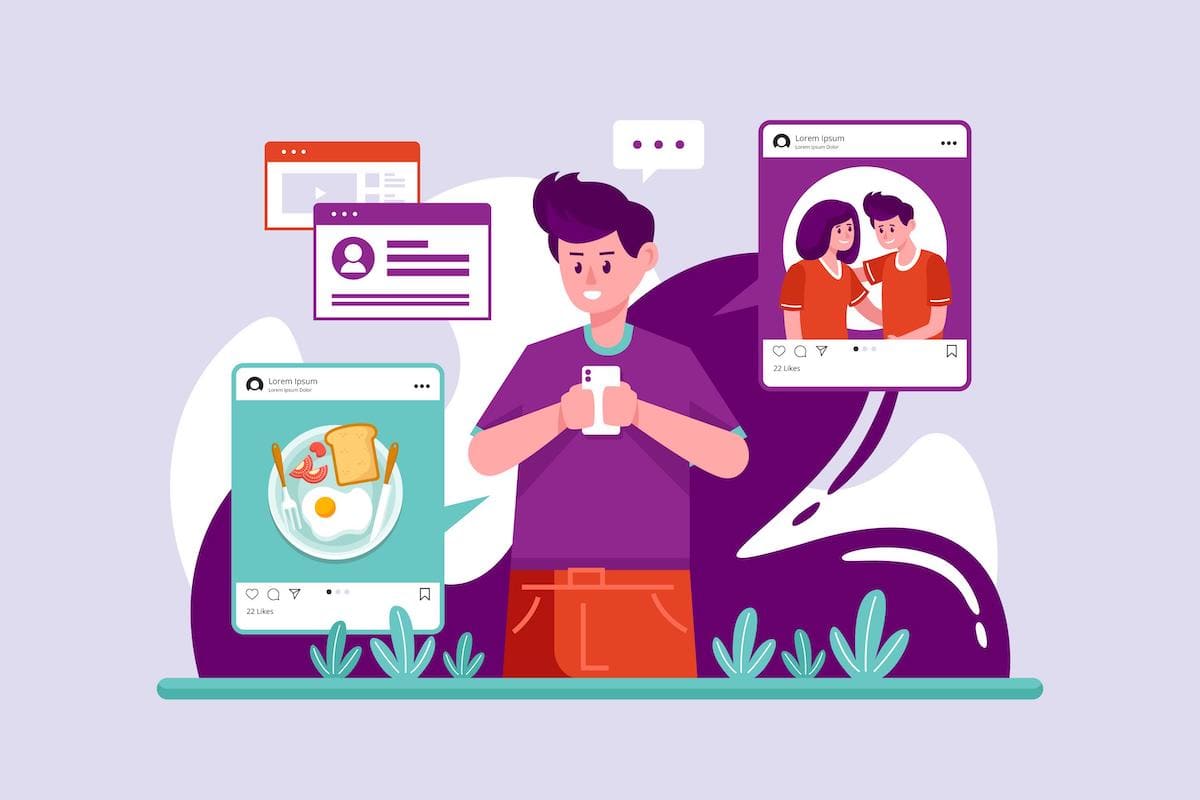 How to Put an End to Instagram Sextortion?
If you're a victim of a sextortion scam, you might be uncertain about the appropriate steps to take. This is especially true when it comes to the question of "what to do if someone is blackmailing you on Instagram". Simply blocking the offender and hoping for them to disappear is unlikely to yield results, as these criminals are adept and can create numerous fake accounts. Are you tired of being caught in an endless cycle of uncertainty? Let us explore how we can put an end to it and what could happen next!
Demand or Finding the Right Price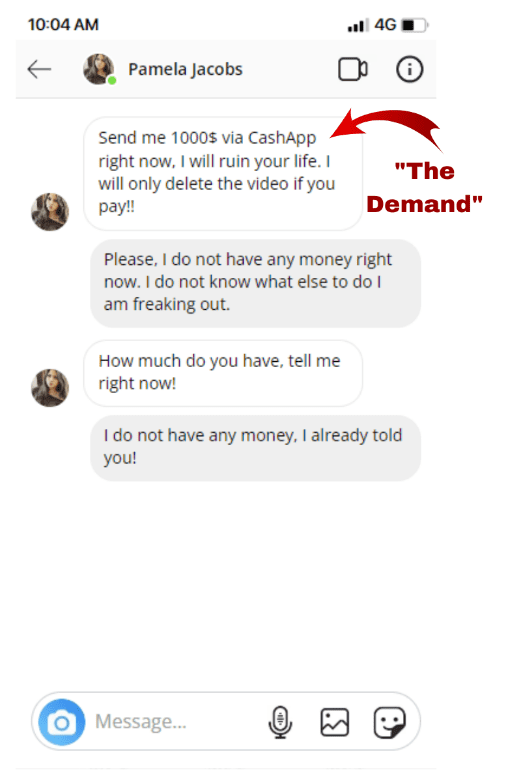 The scammer will first start out with a demand payment in exchange for not posting someone's private videos or images online. This is what we call "finding the right price." Typically, they will start with a high number but seemingly can be talked down to something the victim can afford. Next, they will reinforce the threat by revealing personal information, including someone's address, workplace, or school, and sometimes even send screenshots of their friends list. This is used to try and secure the funds.
Financial Hook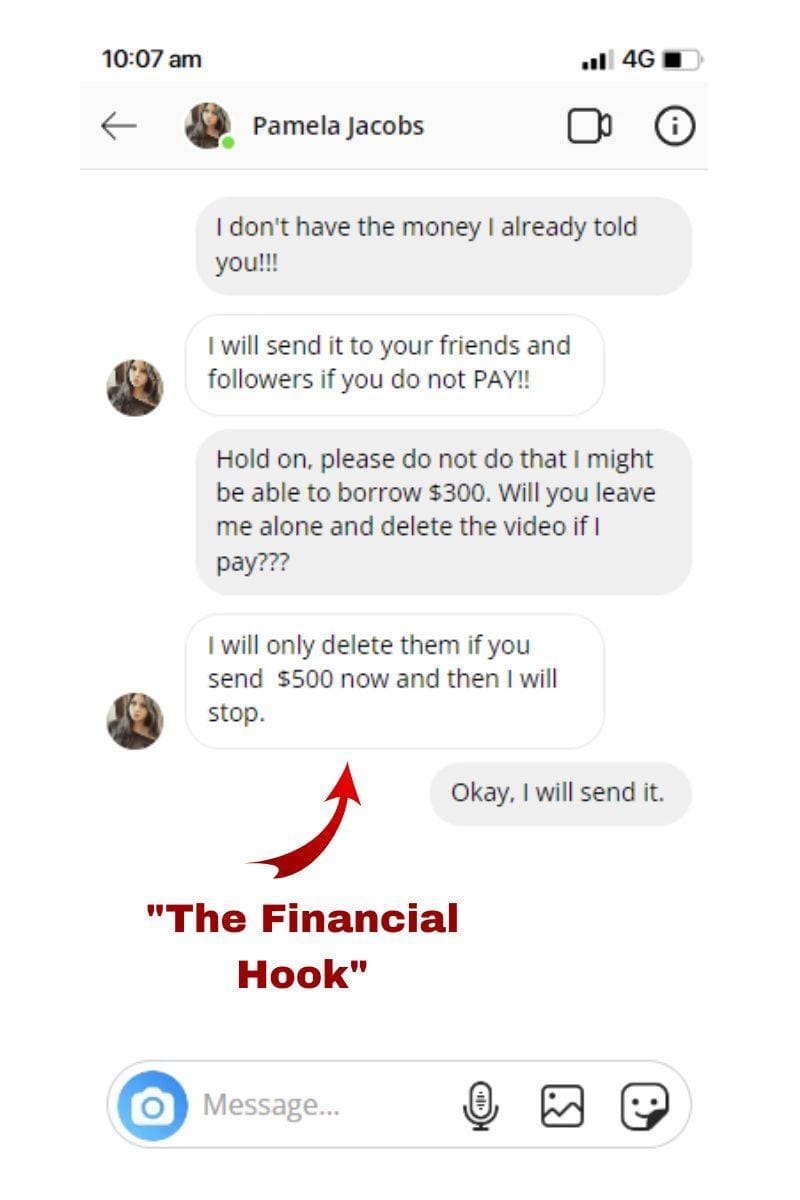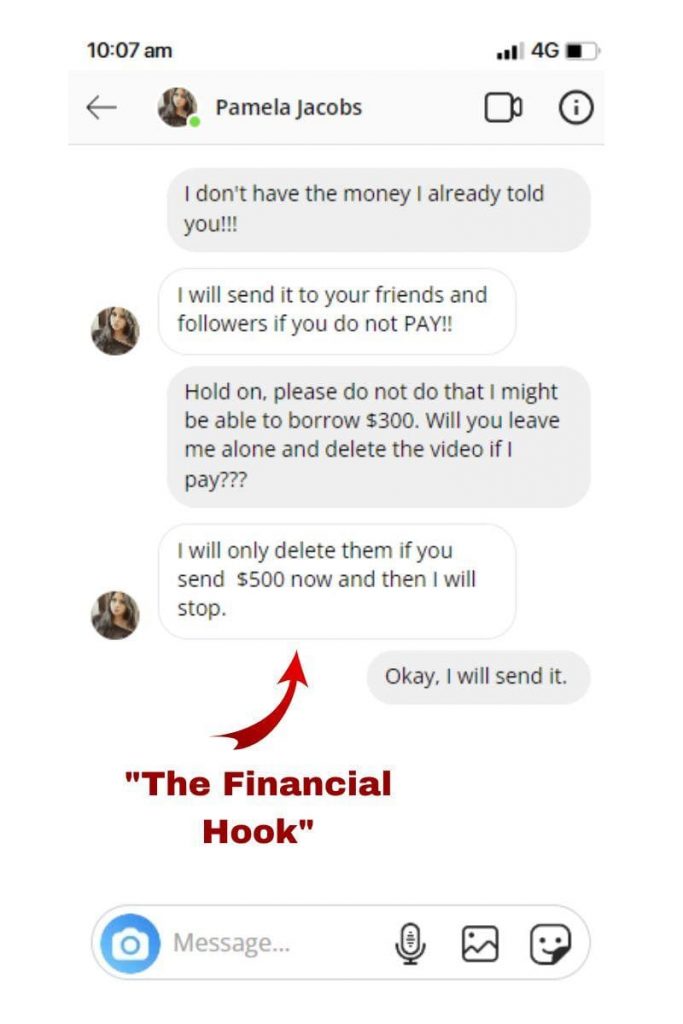 When funds are transferred to the criminal, it reinforces their hooks, making it unfortunate for the victim. This means that the criminal gains knowledge of the victim's ability to access or possess money and can repeat the crime again with confidence. By providing the criminal with the payment, the victim unknowingly gives them the power to manipulate and control their finances, making it difficult for the victim to escape the situation.
Broken Promise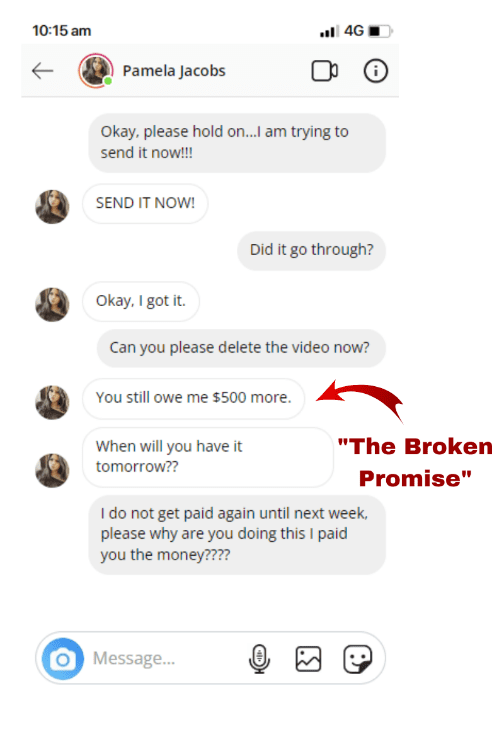 Lastly, when you fall into the trap of an extortion scam, the cybercriminal may ask you to pay to prevent your photos or images from being shared. They will probably promise that your sensitive content will be deleted forever upon receipt of the payment.
However, they almost immediately break their promise of deleting your data after receiving the payment. They may claim to have deleted some of the content, but in reality, they will demand more money to erase it all. This cycle of deception will continue with them demanding increasing amounts of funds repeatedly, leaving you feeling emotionally drained and in financial turmoil.
The pressure to comply with their demands is immense, and it is challenging not to take their threats seriously. If you give in to their demands and they receive the payment, the cycle continues, and the sum enlarges. Making it nearly impossible to escape your attacker's clutches. Instead, we recommend following these steps to end Instagram sextortion:
Steps:
Record the crime. Make sure to keep a record of the evidence that the crime took place. This is essential if you decide to seek legal support in the future.
Report suspicious behavior immediately to Instagram, the FBI's Internet Crime Complaint Center, and your local police.
Remember to keep strong privacy settings. This will allow you to control who has access to your personal information in the future.
With awareness and preventative measures, we can work towards ending Instagram sextortion and creating a safer online community for all.
What to Do if you have become a Victim of Instagram Sextortion?
Do not feel ashamed if you have fallen victim to an Instagram sextortion scam. Sextortion is a distressing and traumatic experience for anyone to go through. The first and most important thing to do if you find yourself in this situation is to seek help and support and speak to someone you trust, such as a friend or family member, or seek professional counseling.
Remember that you are not alone, and resources are available to help you navigate this challenging situation. Some of those resources can include the National Domestic Violence Hotline and Lifeline, and you can also reach out to your local police for more information about victim support groups. It is essential to prioritize your well-being and speak to someone today.
Final Thoughts
Sextortion is a pervasive problem affecting people worldwide, and it is crucial that we take action to stop it. To put an end to Instagram sextortion, it is essential to educate ourselves and our loved ones about the dangers of sharing sensitive information online. We should always be careful about whom we interact with on social media and never share personal information, including images or videos, with strangers. By staying vigilant, we can help stop this crime and create a safer online space for everyone.
So, What to do if someone is blackmailing you on Instagram? If you or someone you know needs additional help dealing with blackmail on Instagram, contact Digital Investigation. Our agents are available to take your call. Whatever the situation may be, we can help you navigate it with discretion and professionalism. Contact us today!
Thanks for reading our article "What to do if someone is blackmailing you on Instagram".