In the treacherous realm of sextortion, victims often grapple with a difficult decision: should they block the sextortionist or not? This crucial choice carries significant implications, leaving individuals to wonder when it's safe to block, what consequences may arise, and whether blocking is wise. In this blog, we'll delve into these questions, providing insights to help you make an informed decision in the face of sextortion. But before you do that, it's essential to understand the nature of these criminals, their operational methods, and the risks you face. So, let's explore the depths of sextortion and shed light on the blackmailer's illegal enterprise.
Unveiling the Blackmailers' Illegal Enterprise
During sextortion, criminals employ deceitful tactics to extort their victims. Operating within organized illegal enterprises, these malicious individuals function with a level of sophistication akin to a well-orchestrated criminal company. Just as a legitimate business has a well-defined chain of command with different roles and responsibilities, sextortionists have a similar setup.
Picture it as a dark and twisted corporation, where each member plays a specific role in maximizing their illegal activities. From the mastermind orchestrating the operations to the manipulative recruiters, fake profile creators, and those responsible for the technical aspects of online sextortion, they work together seamlessly, much like the different divisions of a legitimate company collaborating towards a common goal. But how do they choose their victims?
Sextortionists primarily target young men between the ages of 14 and 30 and older individuals who are vulnerable or lonely for various reasons. Young men, in particular, may be targeted due to societal pressures and the impressionable time in their lives with women and sex in general. Additionally, young men may be more prone to risky online behaviors or seeking intimate connections online. On the other hand, extremely vulnerable and lonely individuals, regardless of age or gender, often seek companionship, validation, or intimacy online.
Sextortionists exploit their emotional vulnerabilities, using manipulative tactics to establish trust and then coercing them into sharing explicit material. But, with so many potential victims out there, how do these criminals narrow their scope?
The Sales Funnel: A Sinister Strategy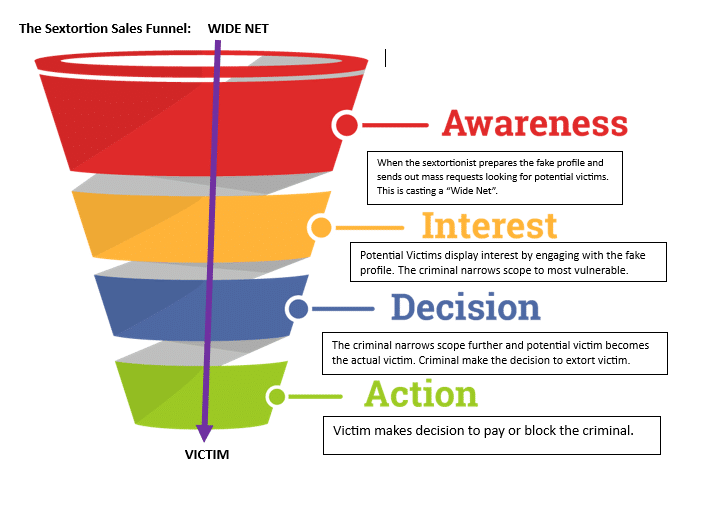 At the heart of their operations lies a calculated strategy known as the sales funnel. Like businesses cast a wide net to reach potential customers, sextortionists adopt a similar approach, targeting a broad pool of potential victims. Their objective? To seek out those who are most susceptible to their manipulative tactics.
A sales funnel is a strategic process used by businesses and, in the context of sextortion, by criminals to identify and target potential victims. It operates like a funnel, starting with a vast pool of potential targets and gradually narrowing down to the most vulnerable individuals more likely to fall victim to their schemes.
In the case of sextortionists, the sales funnel involves:
Casting a wide net.
Reaching out to many people through various means, such as social media.
Messaging apps.
Online forums.
They employ different strategies to find susceptible targets, often focusing on individuals experiencing emotional distress, such as sadness, anxiety, or vulnerability. These criminals recognize signs of weakness or vulnerability in their potential victims.
Once sextortionists make contact, they will use manipulative tactics to connect with their targets. They may pose as trustworthy or create a fake persona to gain the victim's confidence. This facade can involve conversing, sharing personal stories, or feigning romantic interest. By building this connection, they aim to acquire the victim's trust and lower their guard.
As the process continues, the sextortionists narrow their focus, identifying the most vulnerable individuals more likely to succumb to their demands. These individuals have shown signs of being emotionally distressed, easily manipulated, or susceptible to coercion. But what makes these criminals so incredibly convincing in their deceitful tactics?
The Elaborate Art of Victim Trapping
It begins with creating attractive and persuasive fake social media accounts and identities, demanding unwavering dedication and meticulous attention to detail from scammers. They painstakingly construct profiles brimming with fabricated personal information, captivating photographs, and engaging posts, all carefully tailored to establish an air of credibility and trustworthiness.
These deceitful individuals deploy manipulative tactics akin to psychological grooming to establish a connection with their victims. They employ what can be described as a calculated form of foreplay, slowly and strategically building an emotional bond with their targets. By carefully mirroring their victims' desires, interests, and values, the scammers gradually become integral to their lives. They actively engage with the victims on various platforms, presenting a seemingly genuine and trustworthy persona.
In this intricate process, scammers exploit the vulnerabilities of their victims, manipulating their trust and weaving a complex web of emotional dependence. Within this emotional connection, these criminals lay the foundation for sextortion, which exploits the victims' fears, secrets, and compromising materials.
The diligent efforts these criminals exert create an environment where victims become highly susceptible to coercion, manipulation, and the relentless demands of the sextortionists. The immense pressure confronts victims with a critical question: should they block the scammer?
The Consequences of Blocking the Scammer
When weighing the decision to block the scammer, it becomes crucial to fully comprehend the extent of the scammer's commitment and the potential aftermath that may ensue. These scammers invest significant time, energy, and resources in their elaborate schemes, leaving no stone unturned in their pursuit of control and manipulation. Cutting off contact by blocking them signifies a direct defiance of their power, which can trigger their vindictive nature and prompt retaliatory actions.
After extensive grooming of their victims, scammers gather a wealth of personal information. They may have obtained the names and details of the victim's friends and family, knowledge of their educational institutions, and even information about their workplace. Such comprehensive knowledge allows scammers to inflict further harm and damage the victim's life. They hold this arsenal of data as a means to exert control, manipulate, and maintain their hold over the victim's life.
If a victim decides to block the scammer, it does not mean the end of the ordeal. It can provoke the scammer to escalate their tactics to regain control and inflict maximum damage. They may resort to a scorched-earth approach, utilizing the collected personal information to unleash a campaign of revenge. Their aggressions can involve the public release of compromising materials, intending to humiliate and ruin the victim's personal and professional reputation. The aftermath of such an act can be devastating, leading to severe emotional distress, damaged relationships, and even professional consequences.
Furthermore, scammers frequently exploit the shattered lives of their victims as cautionary examples, using their stories to instill fear and coerce potential targets in the future. By capitalizing on the victim's plight, scammers aim to create a climate of intimidation, rendering others more vulnerable to their manipulative ploys and extortion schemes.
Considering the immense weight of these potential repercussions, simply blocking the scammer is unlikely to offer a complete resolution. We advise victims to explore alternative approaches and strategies to tackle the situation effectively. These strategies may involve engaging law enforcement to report cyber crime, seeking support from trusted individuals such as friends and family, or supporting organizations specializing in cybercrime, like us here at Digital Investigations Corporation.
Seeking Professional Assistance
We strongly urge that when faced with the daunting reality of sextortion, victims avoid navigating this treacherous path alone or simply blocking the scammer, which could leave their lives in ruins. Instead, seeking professional help becomes paramount. Dealing with such a distressing and intricate situation in isolation can be overwhelming and potentially ineffective. The risks are a lot higher. To avoid handling sextortion on your own, specialized organizations, like Digital Investigations Corporation, can offer invaluable expertise in taking sextortion cases with precision and care.
By turning to our team of experienced professionals, victims significantly increase their chances of successfully resolving the issue while minimizing the risk of exposure. Our experts deeply understand the intricacies of sextortion and the nuances involved in combating this pervasive crime. We provide victims with unwavering guidance, support, and access to crucial resources throughout the process.
At Digital Investigation Corporation, we employ cutting-edge digital forensics techniques to gather evidence, meticulously analyze online interactions, and trace the origins of the scam. With our specialized tools and methodologies, we uncover the identities of the culprits behind the blackmail, safeguard the confidentiality of compromising materials, and diligently work towards bringing the scammer to justice.
An essential advantage of seeking professional assistance is our strategic approach that emphasizes not blocking the suspect. If they are blocked, we have no leverage. Instead, we advocate for maintaining communication channels, which can yield vital evidence to strengthen the investigation. By preserving these lines of contact, our experts can quickly take over communication, employ IP to location tracking, and collect the necessary evidence to build a robust case against the blackmailers, increasing the likelihood of a successful resolution.
Digital Investigations Corporation boasts an impressive track record, with a remarkable 90% success rate in preventing the release of compromising content. Our unparalleled expertise and abundant resources enable us to navigate the complexities of sextortion with unwavering effectiveness. Victims can reclaim their safety, privacy, and peace of mind with our guidance.
Conclusion
It is crucial to recognize that ignoring the problem or attempting to handle it alone can exacerbate the situation and prolong the anguish. By confronting the issue head-on and seeking professional guidance, victims empower themselves to take proactive steps toward resolution. Engaging with experts who specialize in sextortion cases ensures that victims have the unwavering support and comprehensive resources necessary to navigate this distressing experience and emerge stronger on the other side.